Chemical Sourcing is a tier 5 redacted mission. The aim of this mission is to extract two jugs of Sulphuric Acid from the Koschei Complex and deliver them to two different locations. In this guide, I'll take you through what you need to do and how you can do it.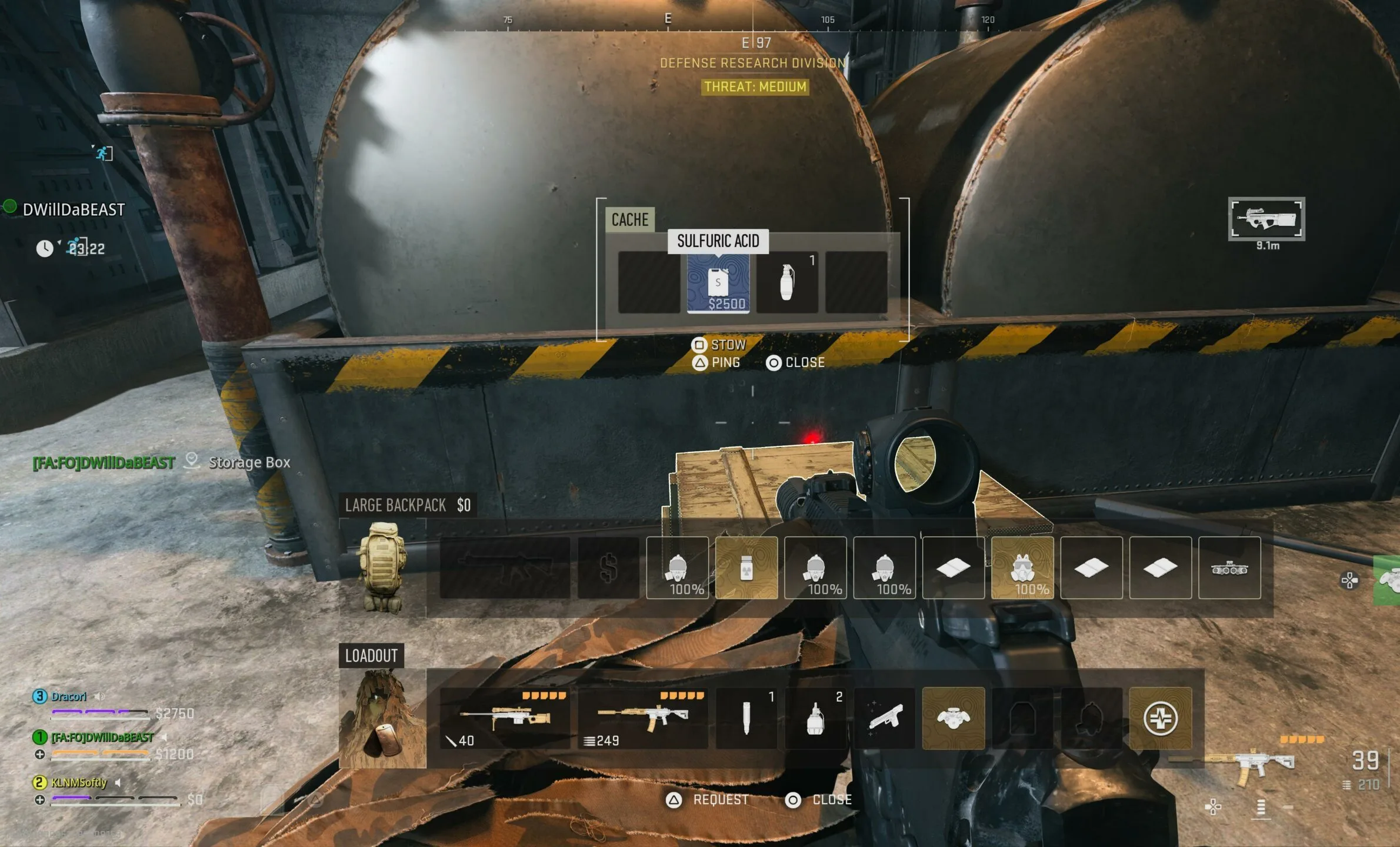 Chemical Sourcing – Redacted Tier 5
Extract the two jugs of Sulphuric Acid from the Koschei Complex

Dead drop one jug of Sulphuric Acid in Al Mazrah

Dead drop one jug of Sulphuric Acid in Ashika Island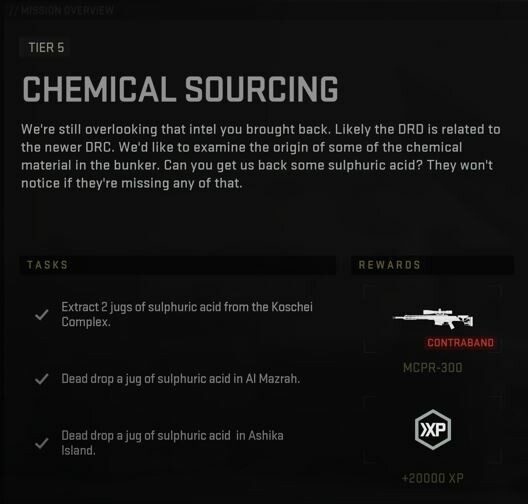 Where To Find Sulphuric Acid in Koschei Complex
Keep in mind that you are heading into an irradiated area, so you'll need to grab yourself some Radiation Blockers or a couple of gas masks for protection.
You can head to any of the bunker entrances on the map. However, the Oasis entrance seems to offer the best chance of finding both jugs of Sulphuric Acid in a single run.
The spawn chance of Sulphuric Acid is random; you'll find it in storage boxes dotted throughout the facility. In my experience, the Defence Research Division sector is one of the best place to find Sulphuric Acid.
Once you've got the Sulphuric Acid, it's time to leave. Since the Sulphuric Acid is a mission item, you won't need a Secure Backpack to take it out of matches.
Where to Dead Drop Sulphuric Acid in Al Mazrah
When you are ready to dead drop, put a jug of Sulphuric Acid in your backpack and deploy to Al Mazrah. Once there, you can deliver the Sulphuric Acid to any of the map's five dead drops (dumpsters).
It's usually easier to go to the closest one to where you spawn in. Once delivered, exfil out, and then it's time to head to Ashika Island.
Where to Dead Drop Sulphuric Acid in Ashika Island
Similar to Al Mazrah, depending on where you spawn in, you'll want to head to the closest dead drop to your location. Put the Sulphuric Acid into any of the four dumpsters highlighted on the map, and then you have finished the mission.
Chemical Sourcing Mission Rewards
For completing the chemical sourcing mission, you'll receive the MCPR-300 (Contraband) along with 20,000 XP.
Alice Gordenker is a Tokyo-based writer. She started her career in journalism reporting from Washington, DC for food industry trade publications on regulation and legislation. Since relocating to Tokyo more than 20 years ago, Alice has made it her "life work" to provide insight on Japan through various media including newspapers, magazines, television and film.
She is delighted to be an early contributor to Japanese Food Guide, where she can once again focus on great things to eat, and how they are grown or made.
test